If you're like me, you don't care much for manga and you won't give anything that resembles manga a fair shake. Of course, Steve knows this and enjoys playing on that cultural blind spot whenever he can. Enter Sakana. I'd categorize it as Japanese sensibilities by way of an American storyteller, but we'll get to that soon.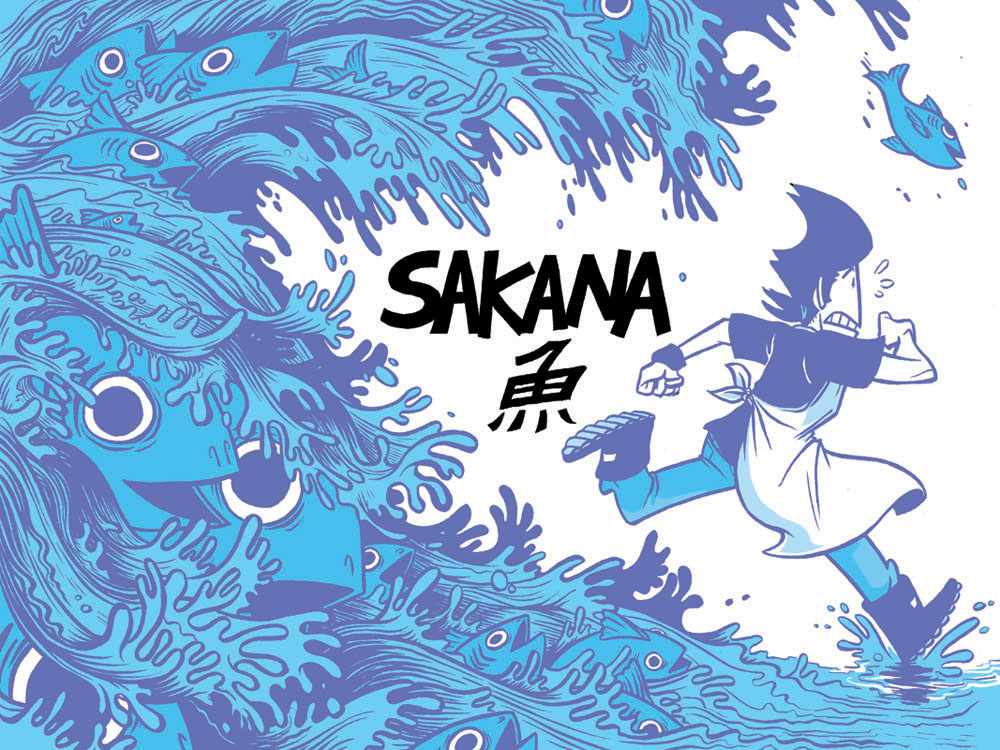 First, you probably want to know what we've been readin'. I've taken a quick glance at Starcrossed [6:50, by way of Ellie on Planet X (7:04)] and found myself thoroughly impressed with the command over the line work that creator Joel Duggan displays [it shares a similarity with Good Ship Chronicles (7:46) and Epicsplosion (7:47, but both seem to not be in working order any longer) in that way]. I look forward to returning to the archives soon. Steve checked out Sent From The Moon (10:33) and also discovered Beeserker (not a mispronunciation, I checked, 11:19), which he believes is the first webcomic to inspire a video game. Both look promising in very different ways and we hope to return to all of these works in the future.
Dungeon crawlers and action-RPGs are an awesome cross-section of genres that produce some of the most addictive gameplay experiences ever devised. While Diablo III represented one of the most anticipated games ever in this space, many have found it lacking in many ways. Torchlight, on the other hand, has been hailed as a return to the good ol' days of hack-and-slash frivolity (and coming from some of the minds behind Diablo II, these claims are well-founded). And so the sequel to this series is now upon us, and comparisons between it and the third Diablo iteration are inevitable. One thing Blizzard (makers of Diablo, as well as World of Warcraft and Starcraft) didn't provide us, however, is the soundtrack to their epic journey. Shortly before Torchlight II was to release, the developers posted the entire soundtrack for the game, free to all with the Internet connection to download it. Our midshow beats, from the track "Temple Steppes" (13:15), is just one sampling of the moody score that accompanies a trek through this varied, wondrous land. Listen, download, and most of all, play.
Growing up as a boy in Kansas, I knew nothing of Japanese culture; there were no sushi joints within 120 miles, and I certainly never interacted with any Japanese people. Even our Chinese restaurant, though great it may have been to my Midwesternized palate, served the most American Chinese food you're likely to encounter. We had no fresh fish market, and wandering downtown to partake of all the local cuisine would yield four, maybe five different selections. With so very little to relate to in a comic about Japanese people in Japan, you'd think it would fail to tickle my fancy. But tickle it did.
Creator Madeline Rupert finds a way to stay true to the cultural truths of a story told in Japan, while also including intrinsically human traits that are easy for anyone to identify with. It's on this basis that Sakana is so easy to get into. I'll let our review speak largely for itself, but this is one culturally-rich webcomic that should not be missed.
All this, plus: where is our revamp of Muppet Babies (seriously, need to know), I ponder how torrents truly work, we question what separates the look of a pirate from that of a pimp, our plea for everyone to watch Stardust is issued, Steve hates on Book Club, we wonder if there can be such a thing as a humorous stabbing, and Hypothetical Steve is a dick to his co-workers. Join us and leave any pertinent comments below!
Podcast: Play in new window | Download