Johanna Draper Carlson picks up on an interesting tidbit: Platinum no longer owns Wowio, although it doesn't seem to have moved too far away; Platinum's president and CEO, Brian Altounian, formed a holding company that bought it in July. Flashback Universe has an interview with Altounian that's more about the site strategy than the financial side. (Via Fleen.)
The Ignatz Award nominations are up, and the slate for best online comic comprises Dash Shaw's Bodyworld, David King's Danny Dutch, Joey Alison Sayers's Thingpart, Vanessa Davis's comics for Tablet, and Cayetano Garza's Year of the Rat.
Here's my cranky take, from a reader's point of view, on webcomics site design at Robot 6.
Smith Magazine, which hosted the webcomic A.D.: New Orleans After the Deluge, is launching another high-profile webcomic: The Pekar Project, featuring the work of Harvey Pekar.
Merlin Mann is the guest on the latest episode of Webcomics Weekly.
Larry Cruz is going on hiatus for a few weeks, but he leaves us with an interesting Q&A post about webcomics in general.
Spike talks Templar, Arizona, with Lauren Davis at io9, and Johanna Draper Carlson chats with Erica Moen, creator of DAR: A Super Girly Top Secret Comic Diary at Publishers Weekly Comics Week.
Sheldon Vella discusses his suprise at the success of Supertron at MPD57. (Last three links via Robot 6.)
Chris of The Ego and the Squid is the guest on the latest Ninja Consultant podcast.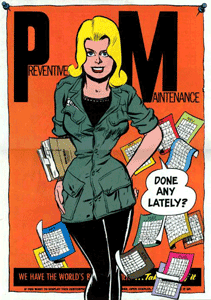 Not awesome: A magazine devoted solely to the topic of preventive maintenance. Totally awesome: A magazine devoted solely to the topic of preventive maintenance and illustrated by Will Eisner. If anyone can make grunt work exciting and sexy, it's Will, so the Virginia Commonwealth University Library has truly done a public service by putting the full archive of Eisner's work for PS Magazine online.