The continuing story of how Daku and Zampzon created Digital Strips continues in today's epic tale. Well, sort of. I have started collecting the DS comics in the gallery section of our site, so if you've missed the previous ones you can find them there. Soon I'll set up a regular web comic system with the usual "next", "back", "first", "latest" links.
I'm going to start posting new DS comics with the show posts to give everyone a little added treat. I hope everyone is enjoying them. Be sure to drop me a message or stop by the forums and let me know what you all think.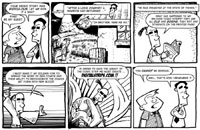 I tried to tailer this comic more to Daku's tastes, longer, wordy, a hint of the Far East, etc. Hopefully I was able to capture the appropriate mood.